Smoke Like a Queen with Royal Blunts
There's something about smoking a blunt that makes me feel like a boss. I'm not sure if it's the cigar-like aspect, copious amounts of cannabis or memories of rolling up with friends in college. Either way, when Royal Blunts reached out to try their new palm leaf wraps I couldn't wait to smoke like royalty in the vintage bathroom of my dreams.
I'll be the first to admit. I am terrible and rolling blunts. Splitting the wrap, worrying if it'll be too dry, slobbering all over a horribly wrapped tobacco leaf—it usually never smokes well. And don't even get me started on the smell of musty tobacco in your house or apartment after. It's why I couldn't wait to try Royal Blunts' new Palm Leaf wraps. They make the whole blunt rolling process so easy you could do it in your bathtub. So that's just what we did.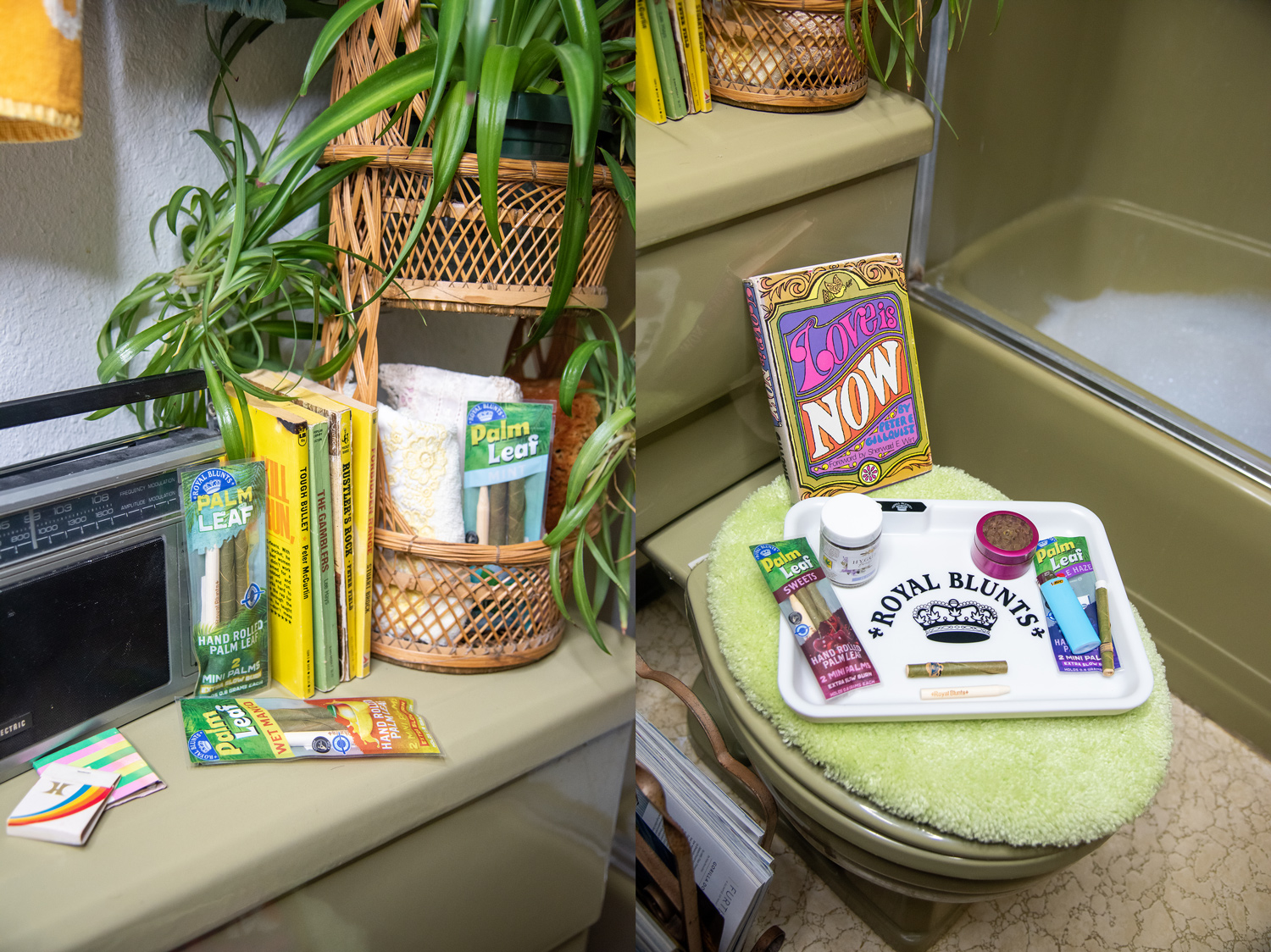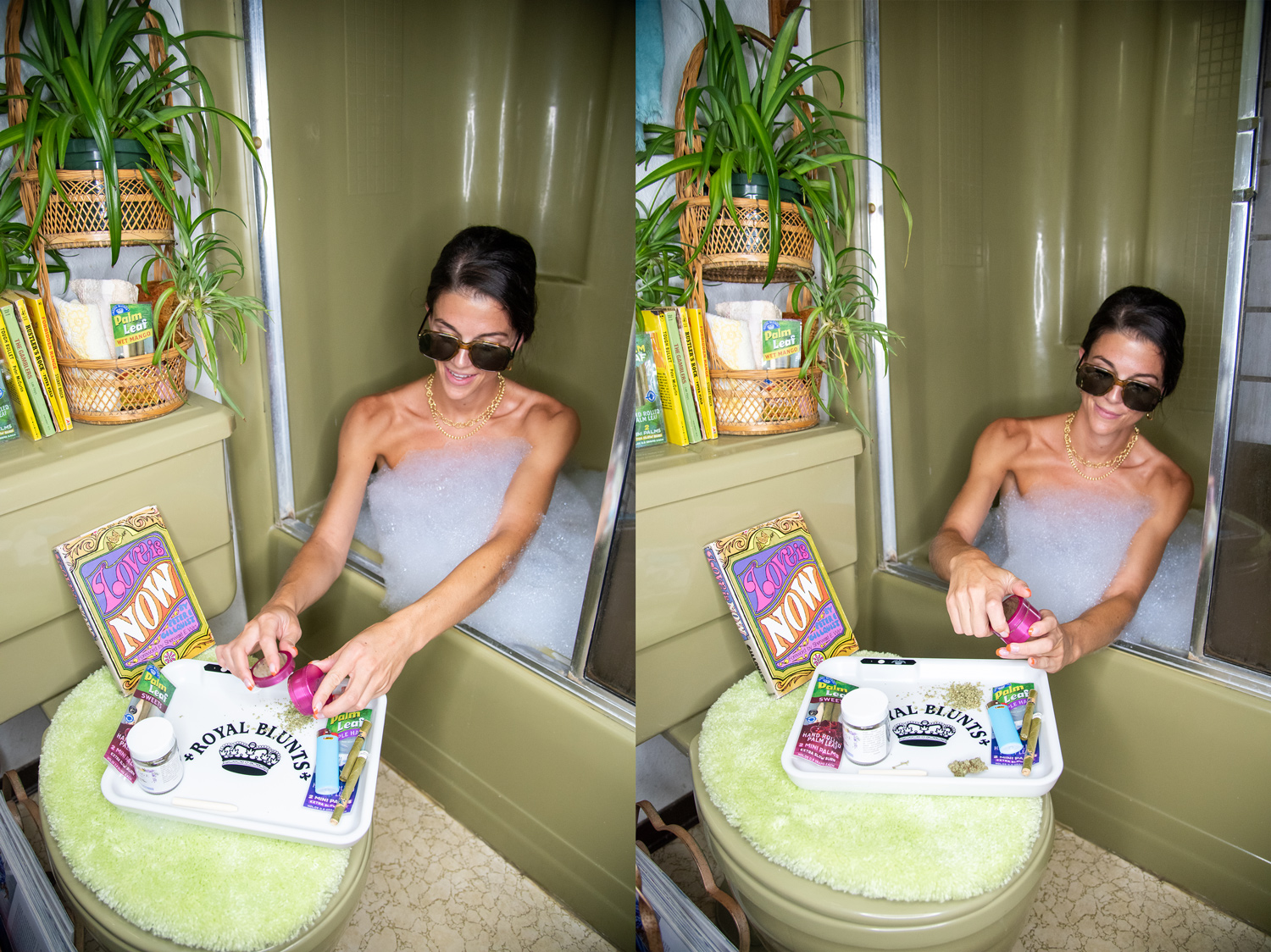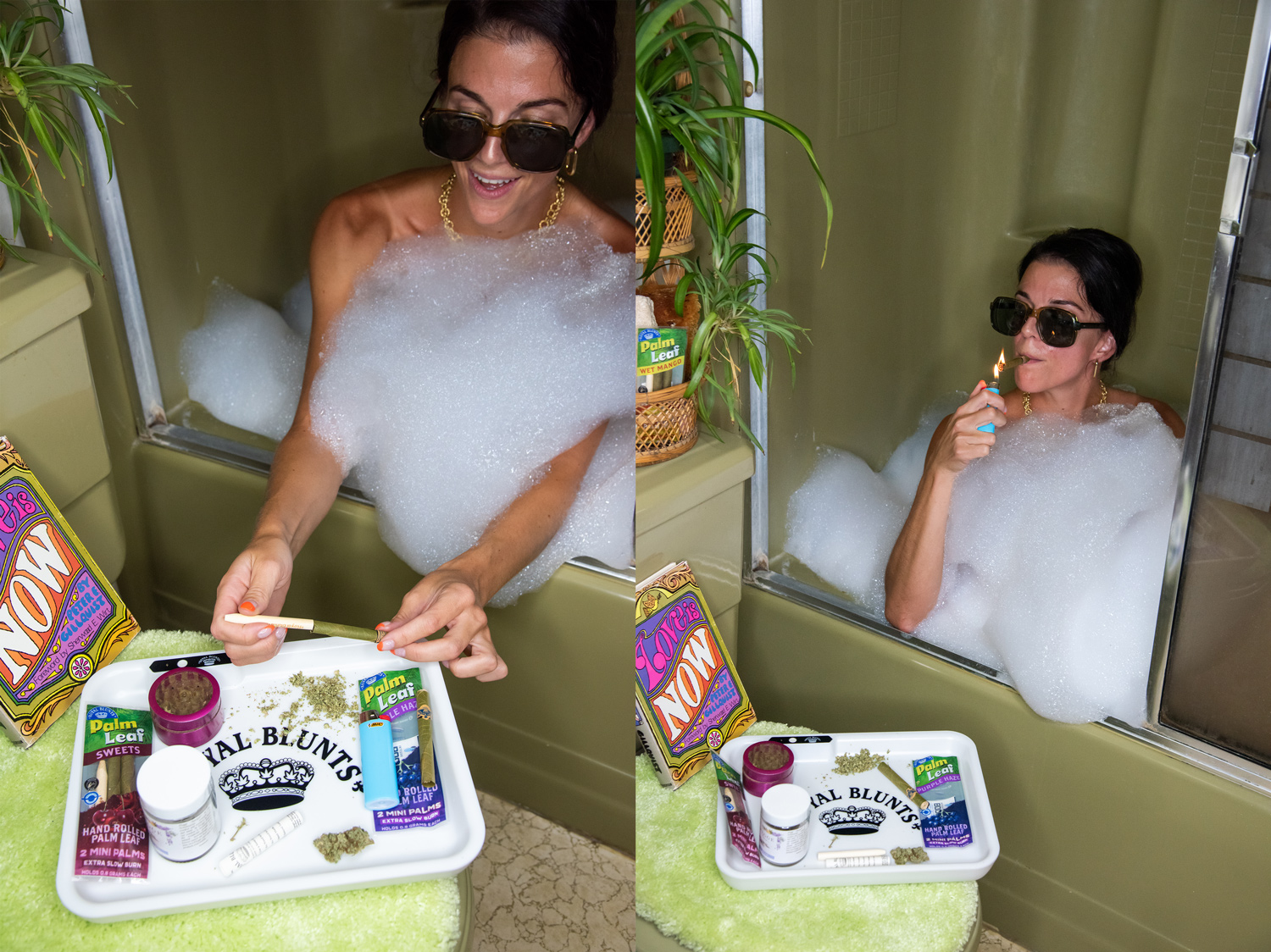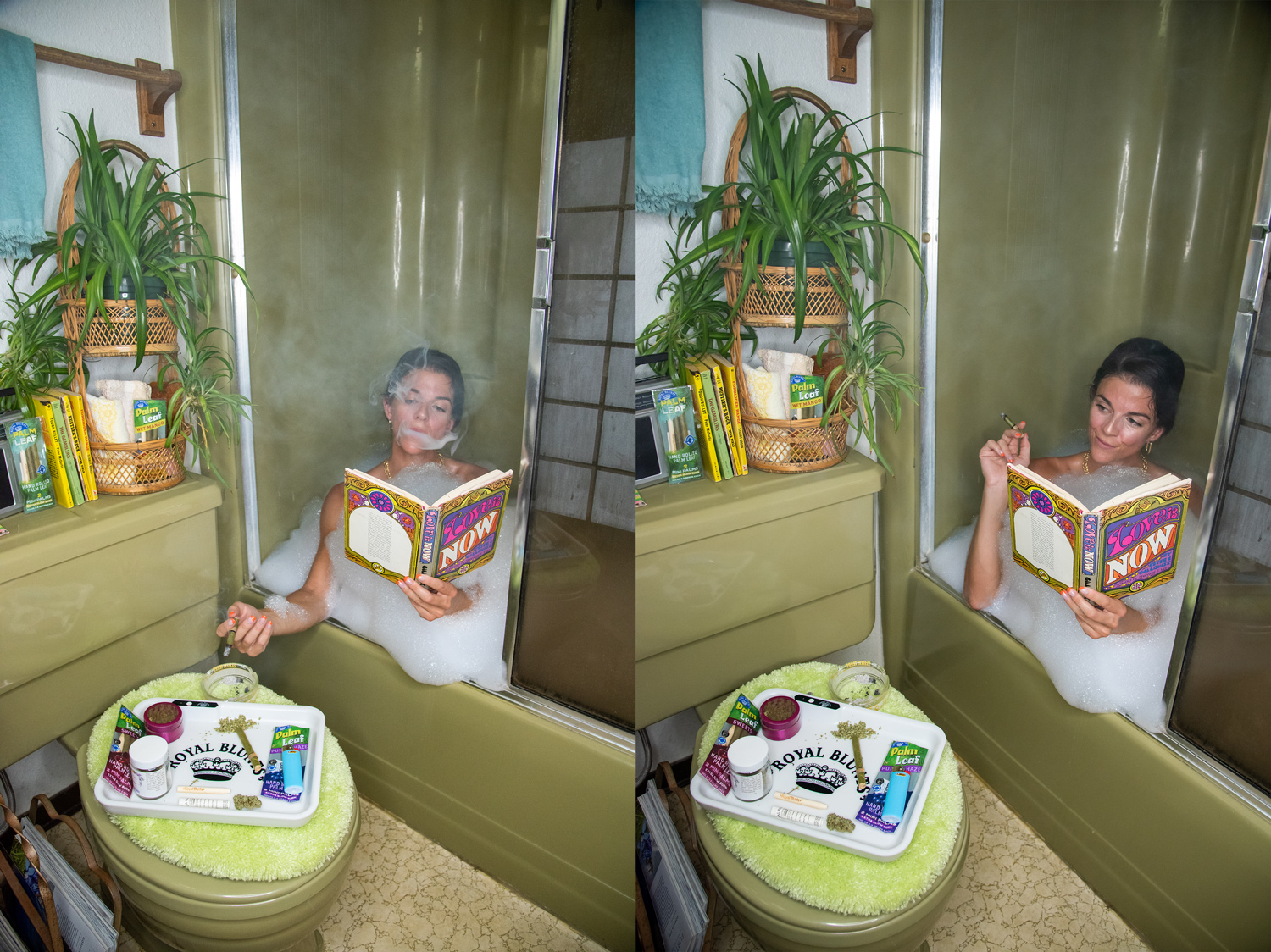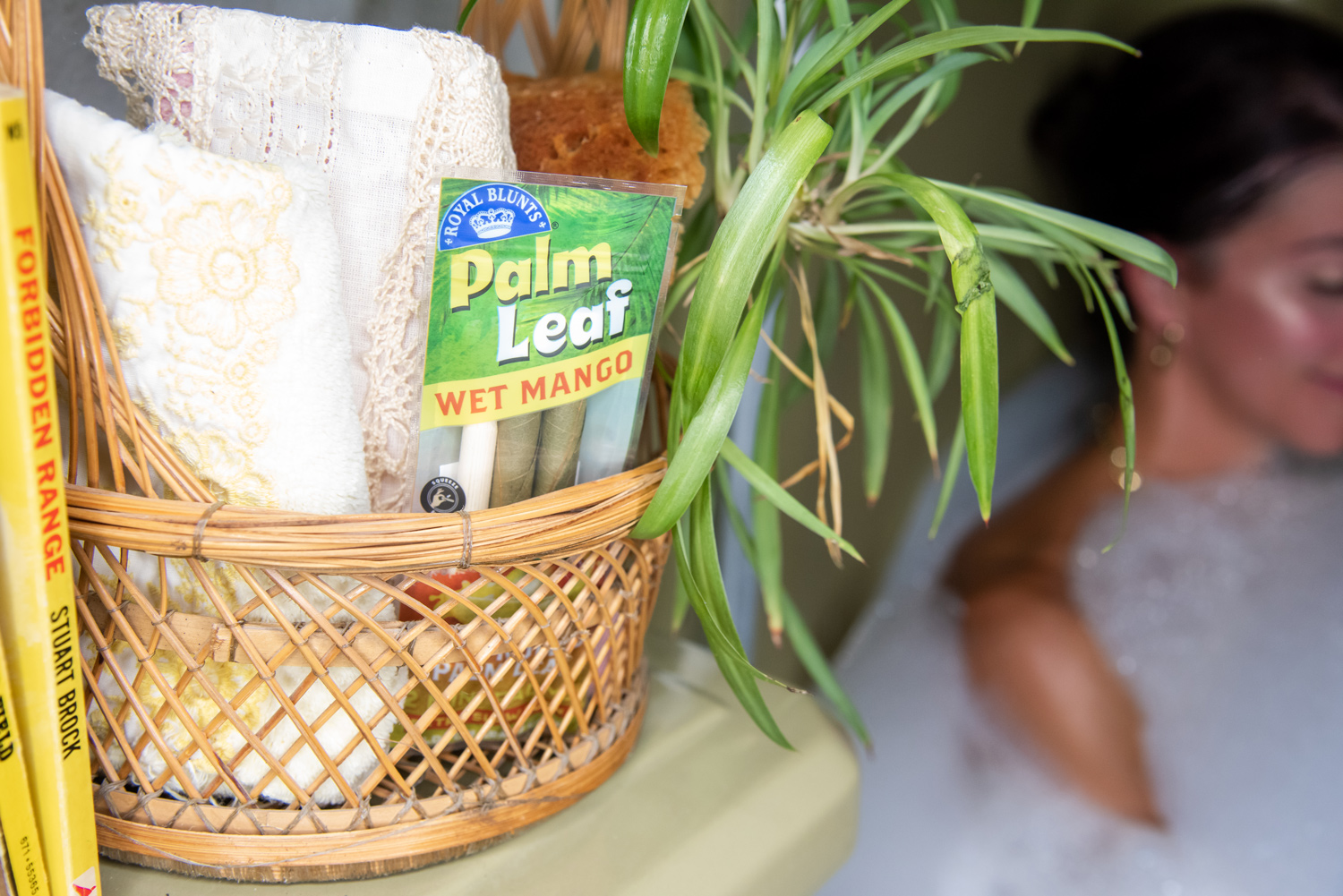 Pack Your Palm Leaf
Ok, I know I mentioned rolling blunts, but Royal Blunts' palm leaf wraps are more like stuffing a cone. It's one of many reasons I love them. To achieve the smoothest smoke possible, grind your flower, then use the included poker tool to pack it down. The end result is a perfect blunt for every smoke.
So speaking of smoke, how do these burn? During our shoot, I smoked three palm leaf blunts. Each was a slow, even smoke, down to the very end. They also hit smooth and have a nice filter tip. Whether you're sharing with friends or just having a solo sesh, these palm leaf wraps are a fun way to elevate your smoke routine.
I love flavored wraps, but the nicotine in blunt wraps gives me a headache. It's one more reason Royal Blunts' palm leaf wraps stand out. They're tobacco and nicotine free, which is super important to me. Wraps full of flavor and available in natural, mint, sweets, purple haze and wet mango. I recommend pairing yours with corresponding cannabis strains, for example grand daddy purple flower with a purple haze wrap.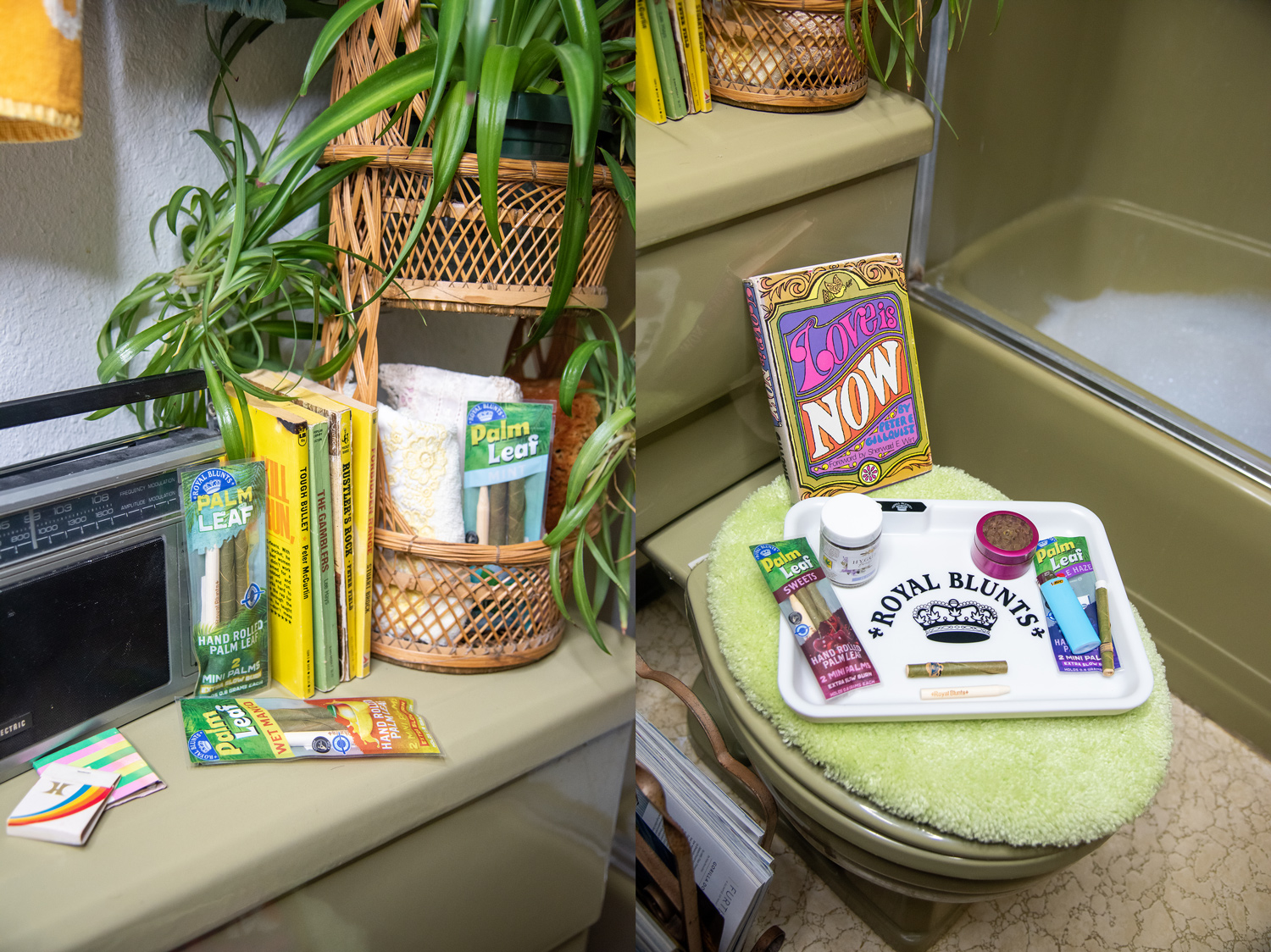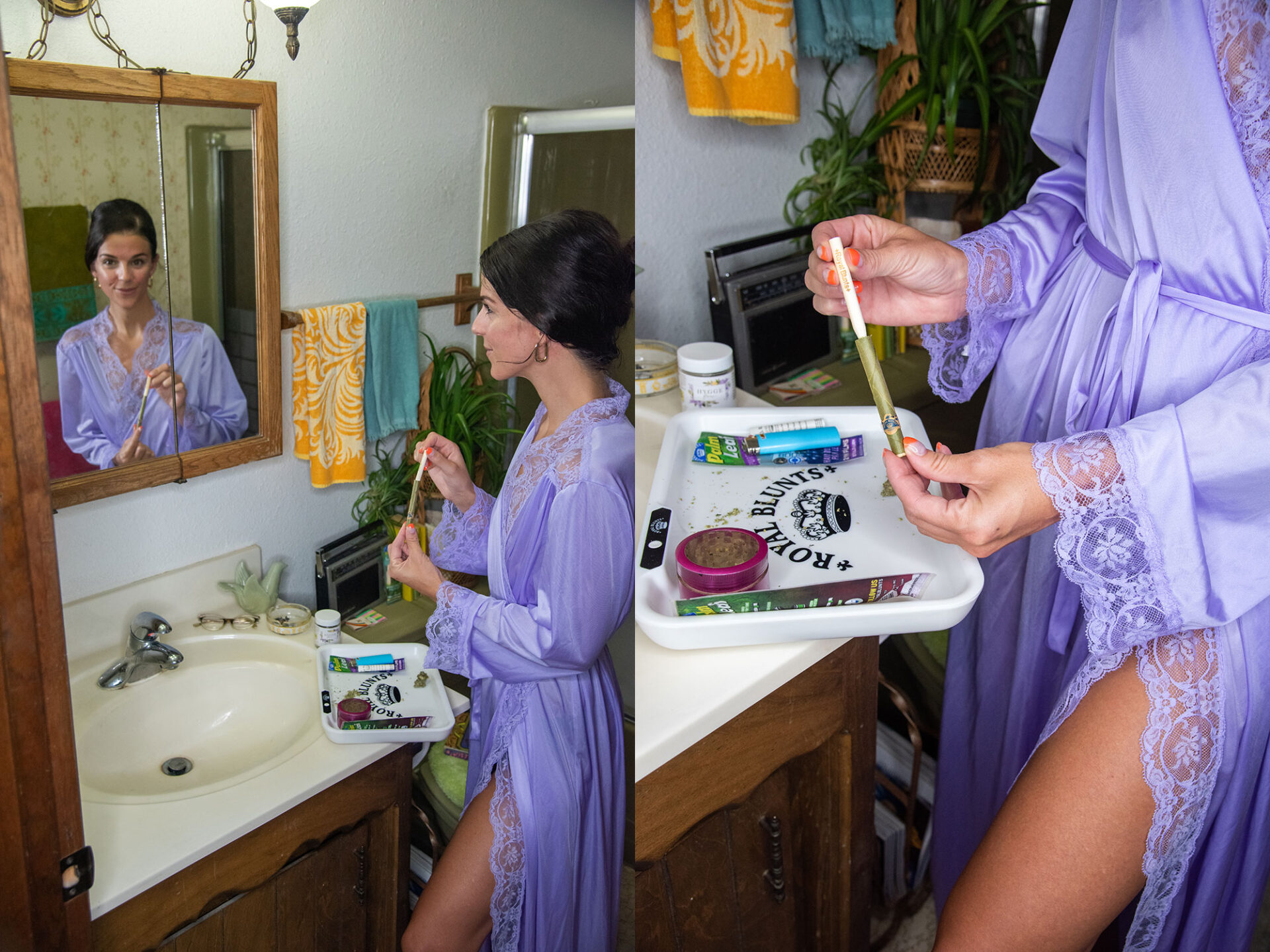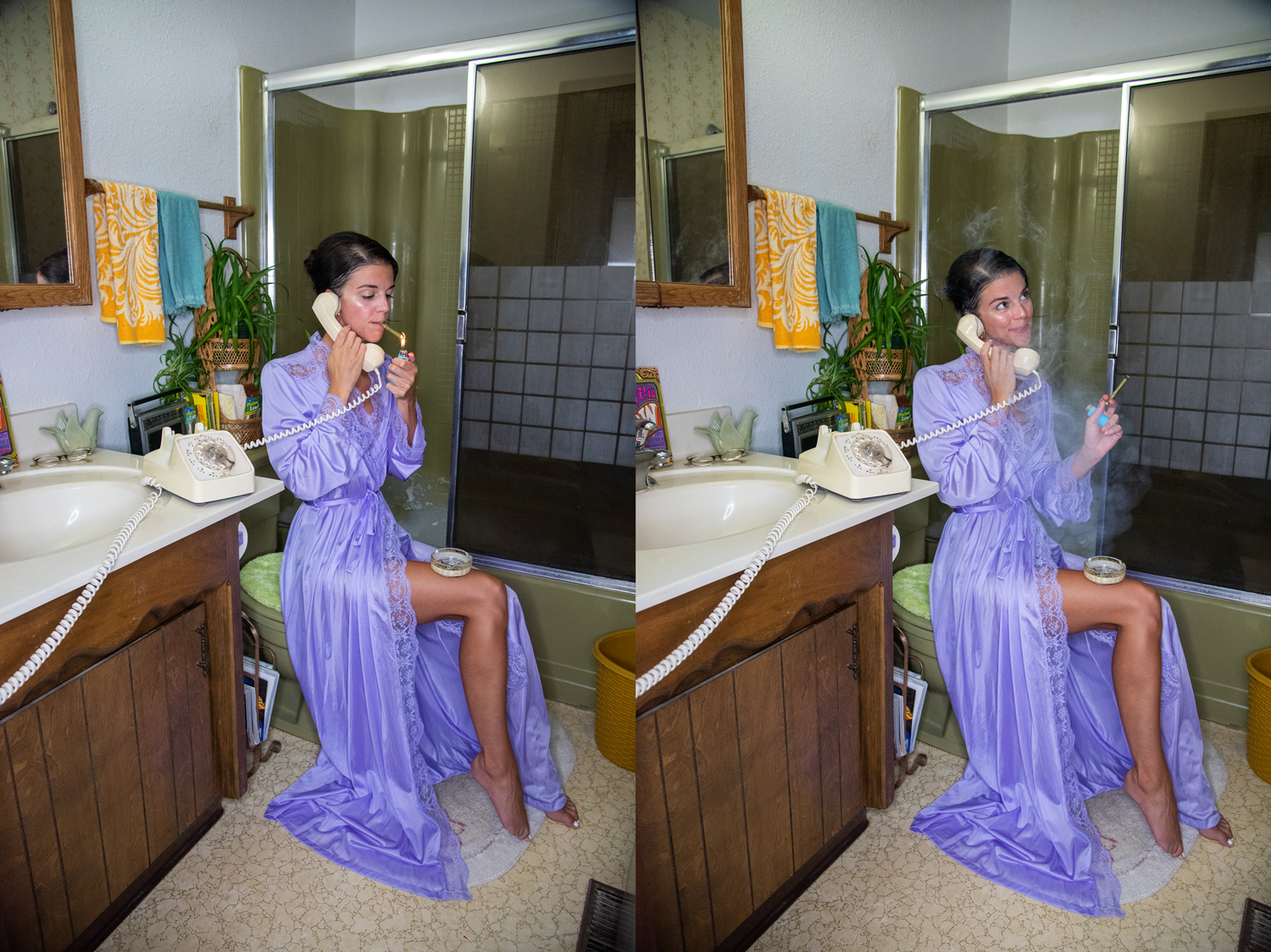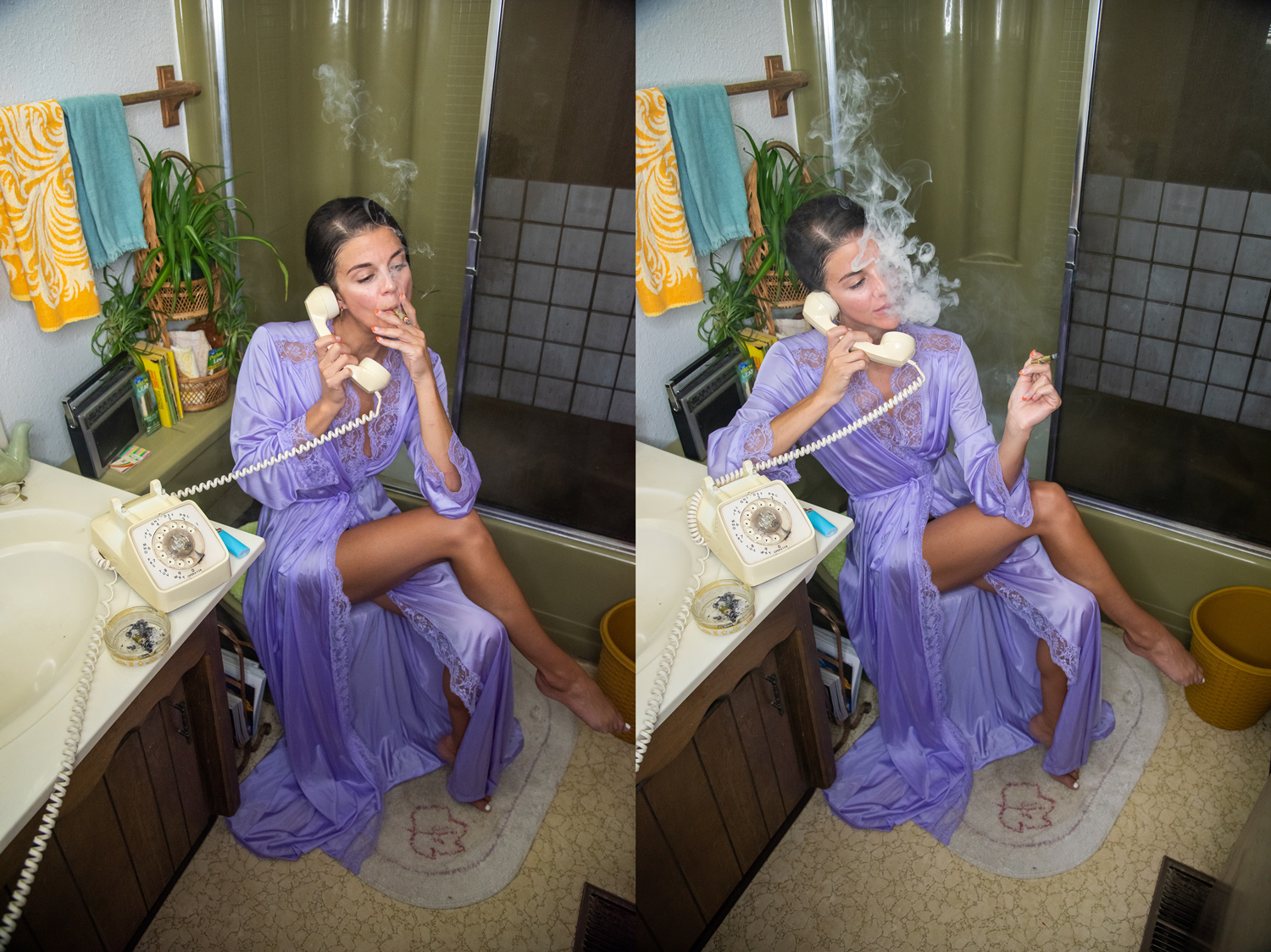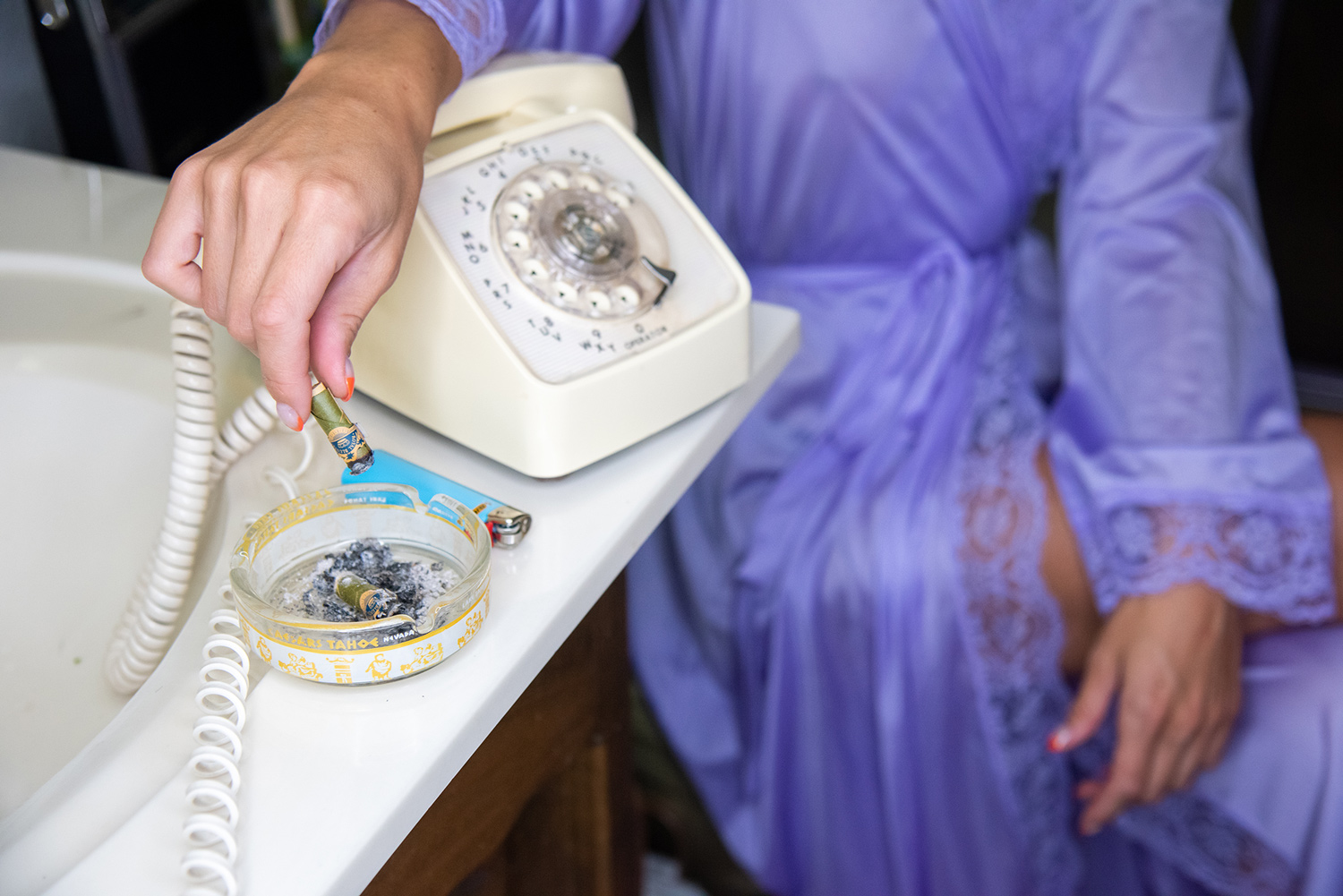 Pass the Blunt to the 1960's
A couple years ago I saw a Gucci sunglasses campaign shot in a bathtub. The photos felt editorial, vibrant and fun. So when thinking about creative direction for our Royal Blunts campaign I reached out to my friend Courtney Jette, a talented photographer and stylist. In fact, it's her shoot in this same space that put the location on my radar.
Palm leaf wraps made us think of Hawaii or California, and the name Royal Blunts evokes groovy, boss babe vibes. Courtney and I combined the two, for this 60's inspired vintage bath shoot. Courtney styled all the props, plus my purple vintage bathrobe. Sunglasses I scored at an L.A. vintage store years ago and jewelry is by LOBA.
Shop Royal Blunts
If you've made it this far, you deserve a smoke break. Want to elevate yours and smoke like royalty? No bath needed (although it is nice). Click here to shop Royal Blunts palm leaf wraps.
Do you smoke blunts and if so, what's your go-to roll-up method? If you've tried Royal Blunts palm leaf wraps, share your experience. I'd love to hear from you.
---
---
You might also like
---