High in the North Cascades at Heather Lake
My friend Keti and I recently set out to hike Lake Serene. After a few stops for coffee and gas, I plug in GPS and follow the map. Well, somehow the map takes us to a past hike and we find ourselves at the Heather Lake trailhead.
How? Seriously, did I not pay attention? Didn't I pick the right location? At first I felt so mad at myself but everything happens for a reason. Lake Serene is a beast of a trail. We got a late start. Keti is slightly hungover. I guess this is the universe guiding our day!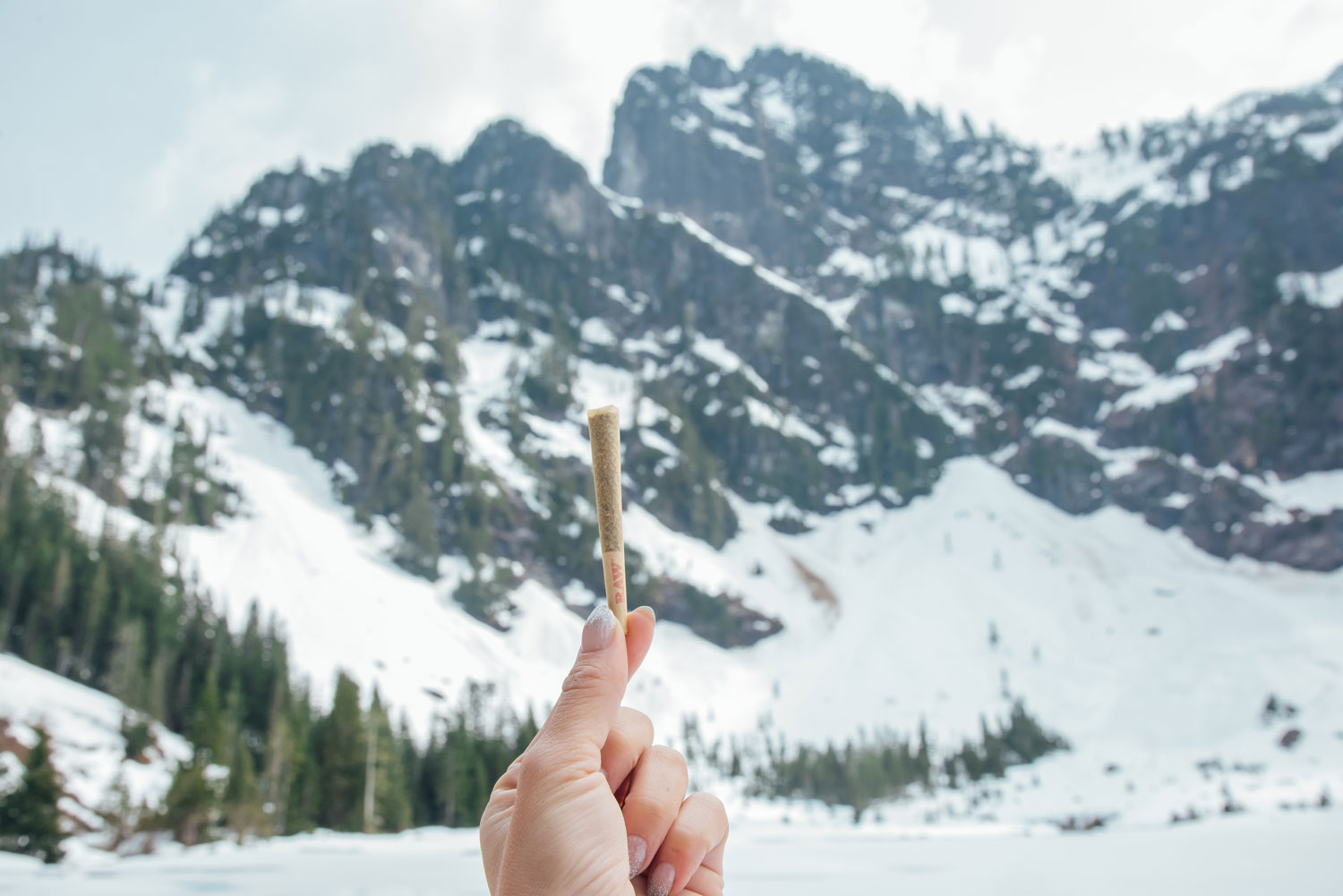 It's a Hike For Everyone
Heather Lake is a 4.6 mile roundtrip hike through the North Cascades. It includes 1034 feet of elevation gain, with the highest point 2430 feet above sea level. It's a great hike for any level of skill and views so grand, they can't fit the viewfinder.
The hike up is especially mellow. Depending on season, it may or may not be a flowing stream. I completed this hike with Lazy Bee Gardens in February under much different conditions and got soaked. This time, however, trails remain dry making it easy to power to the top.
On our way up, we pass a few massive tree trunks. It makes us wonder how old trees got before cutting them down. We also pass a really funky tree root bench, which we note for photos on our way back. There is so much to see on the trail, sometimes you just have to stop and take in the beauty.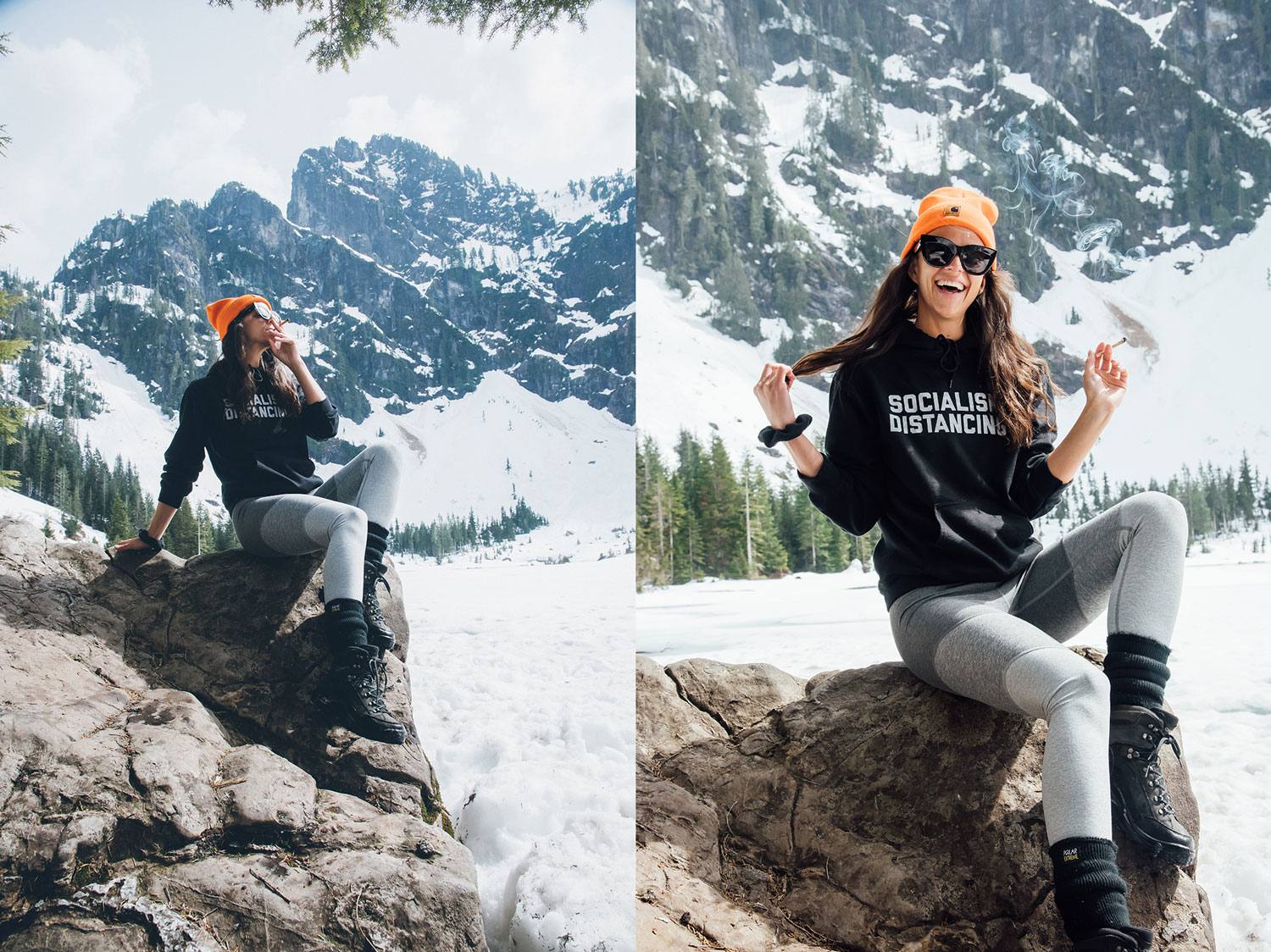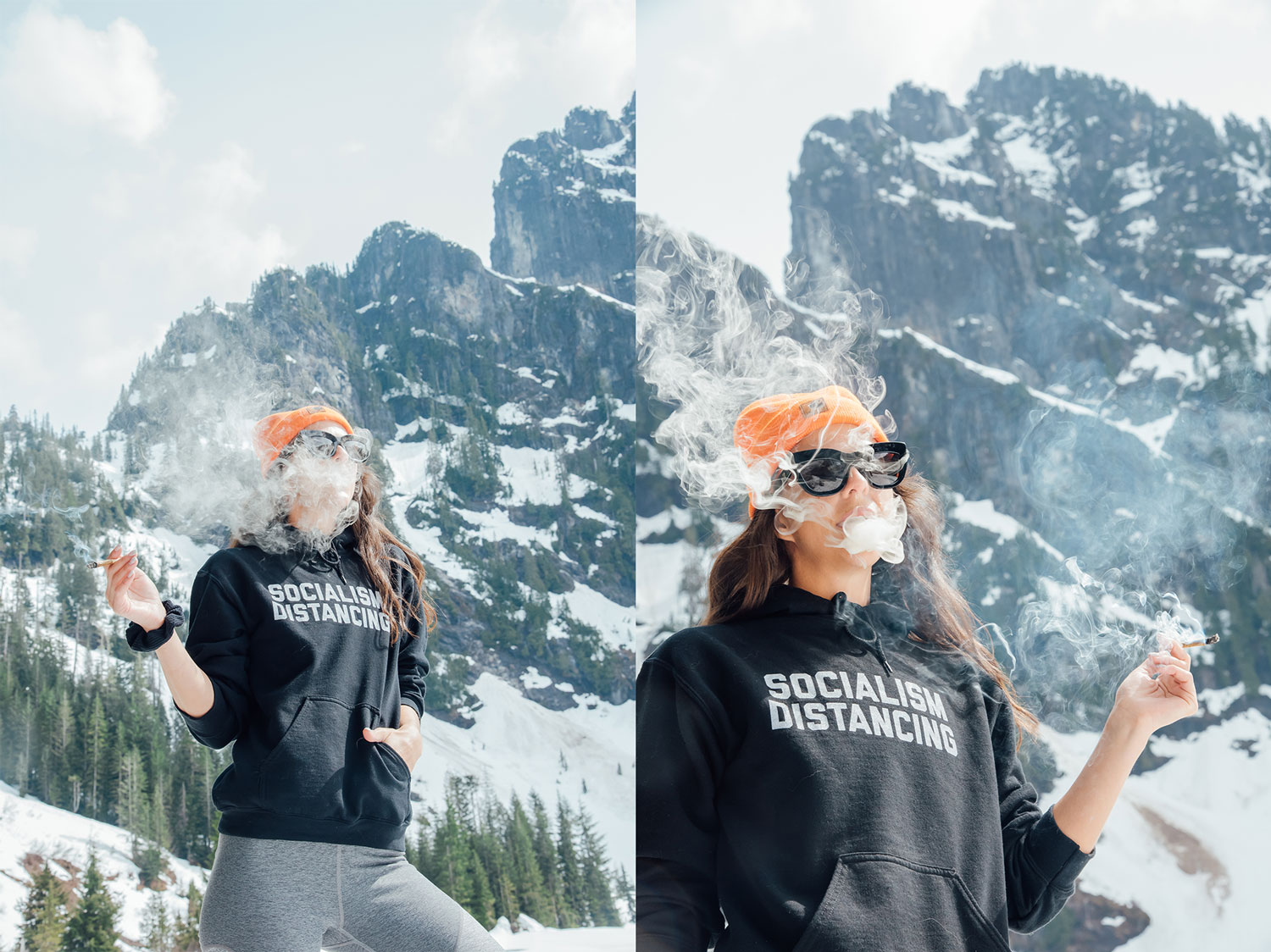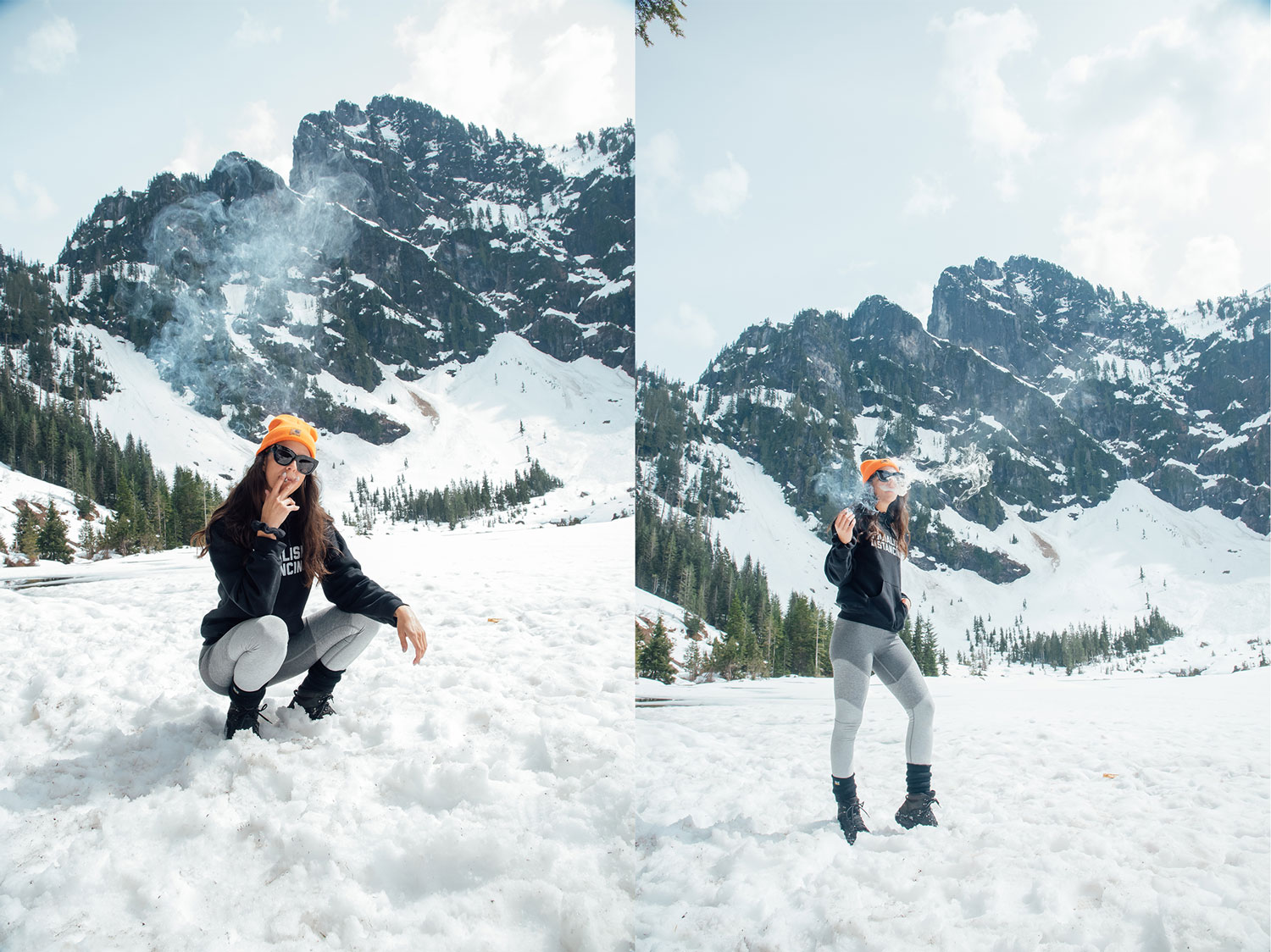 Views from the Top
Alpine lake hikes usually have snow until late summer and Heather Lake is no exception. It's still covered in snow. In fact, a lot more than I expected. The sun is shining and it's a great spring day. We hear avalanches across the lake and know summer is creeping around the corner.
Keti and I spark up celebrating our arrival to the top with a little help from Paz Packs. These wavy pre-rolls are stuffed with 0.7 grams of Cherry Diesel CBD flower and come in a five-pack. I love the taste, mellow effects and obviously love they're wrapped in RAW cones.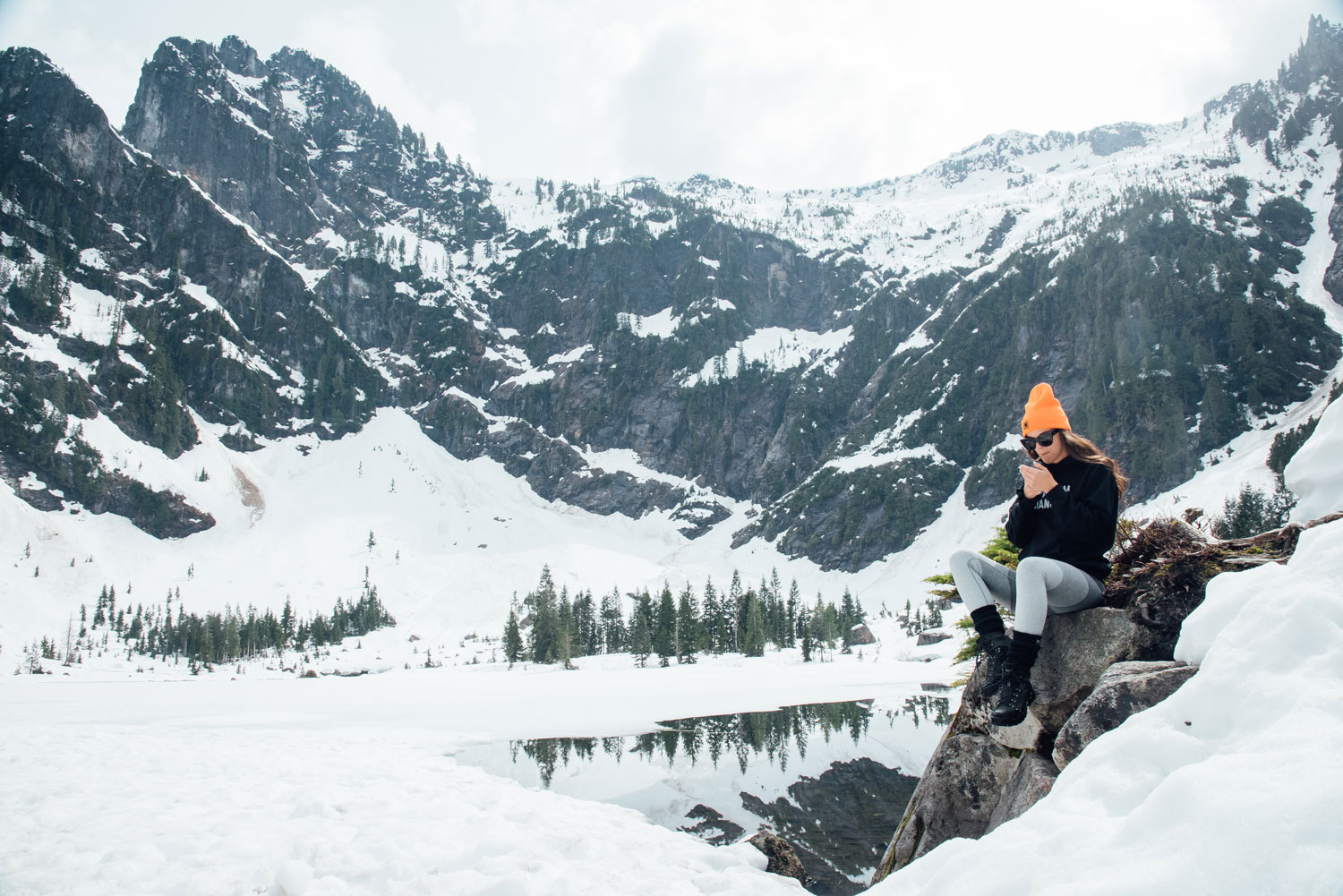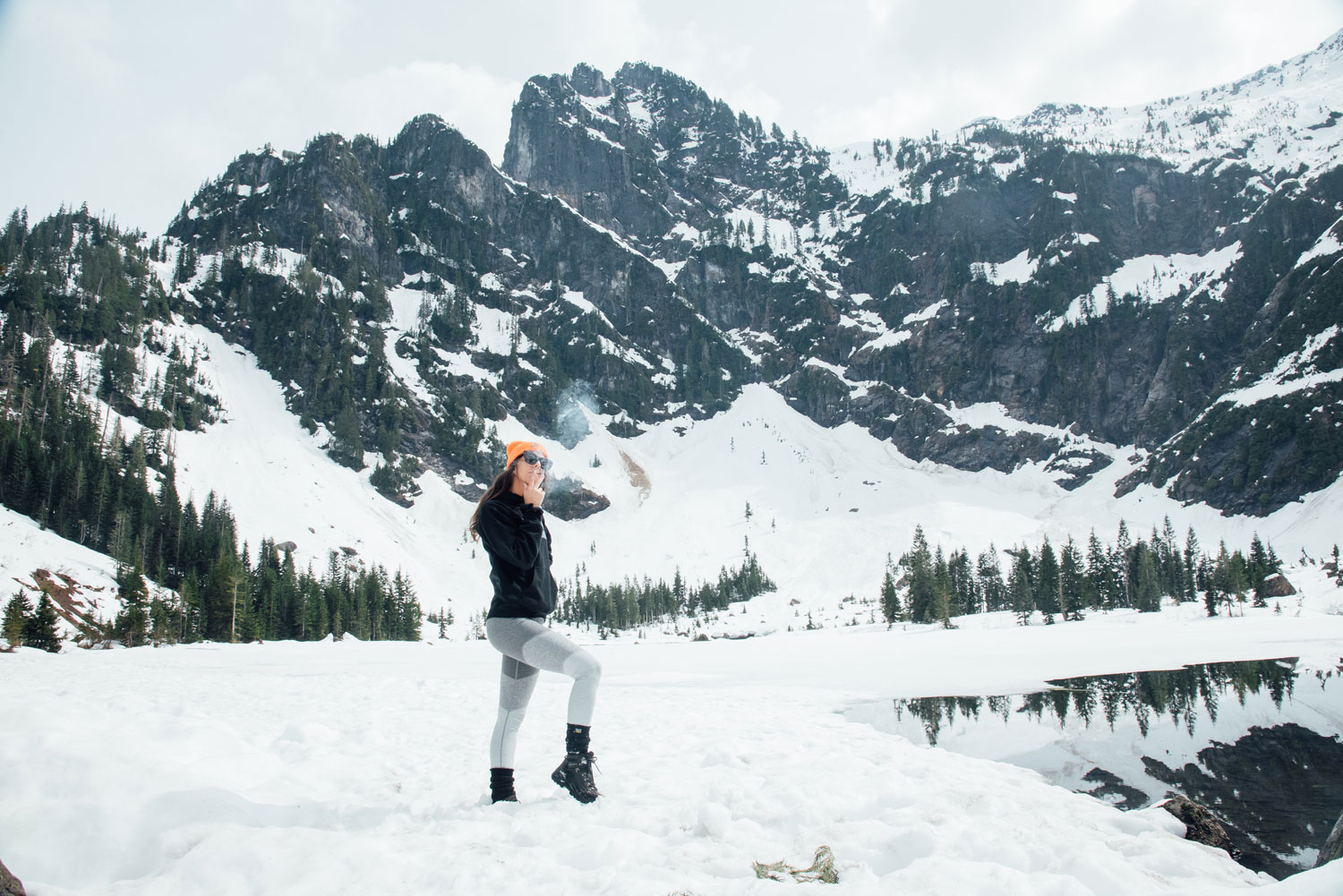 If you Hike Heather Lake
Finally, now that I've shared this special Washington State spot, please be mindful if you plan to visit. Pack out everything you pack in. Yes, this includes "biodegradable" pistachio shells and orange peels. Don't throw them in the lake as we sadly saw. They don't break down and instead look like wet compost.
If you want to smoke at the top, go for it, but pack out all trash. Especially your joint roaches. Seriously, don't make the cannabis community look bad by being a litter bug.
Lastly, hike with a friend and be prepared if something happens. There is no cell service and it's minimal at the top. You can't just call an Uber or 911. Be safe and be smart.
Thanks again to Keti for an awesome adventure day and shooting such great photos. I'm incredibly thankful to work in weed and have "workdays" like this. Make sure to follow Keti on Instagram @immigrantnomad and send me an email if you ever want to hit the trails with us!
---