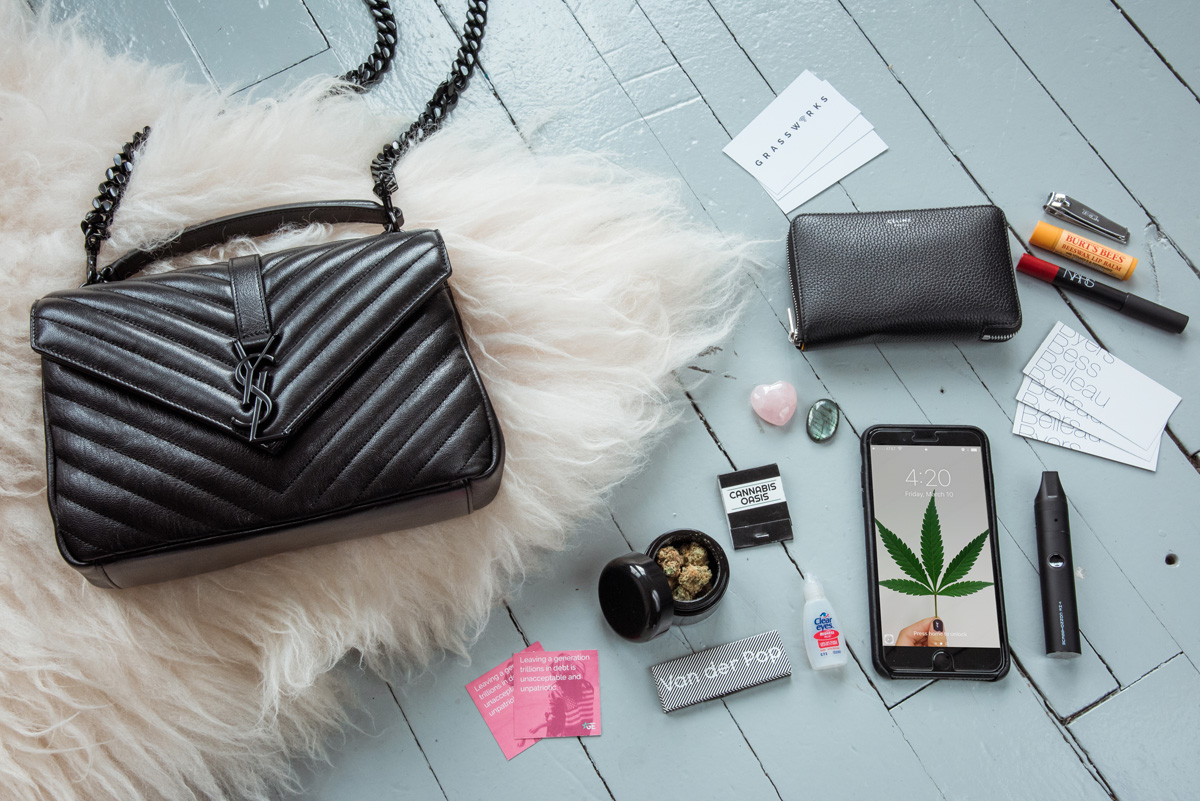 Starting my 30's early with a brand, new ysl bag
I've carried the same $40 vintage backpack purchased on Skid Row for the last six years. The leather is cracking. It's way too big for everyday use. There's holes in the lining which eat my keys, chapstick and weed. The kicker came at a CannaCon mixer when an industry colleague asked for my business card. I looked at my well-worn bag and decided I'm almost 30 — it's time for an upgrade. So an upgrade I got, with a brand new YSL bag.
So today we'll take peek inside my Yves Saint Laurent bag! Daily essentials include:
Van der Pop Stash Jar and Papers This inconspicuous jar, appropriately labeled Trip, comes with me everywhere. It blends in with daily life, is smell proof and protects my weed against light degradation. Van der Pop's rolling papers are an ideal accessory to the trip jar and slip perfectly into my wallet.
Celine Wallet I love its sleek design and silver hardware, but what I love most is the bright yellow leather interior.
Legends Weed by NWCS I can usually be found smoking Super Lemon Haze, Green Crack or Blue Dream by Legends. Grown by Northwest Cannabis Solutions, it's reliable, affordable and a producer I trust.
Cannabis Oasis Matches I swooped these from a shop in Tacoma. You never know when you'll need matches, right?
iPhone 7 Plus I've been an Apple user since birth.
Clear Eyes Eyedrops My eyes get SO red when I smoke weed. The redness relief is the only thing works.
Dank Fung Extracts Connoisseur Pen Dank Fung crushed it with their Connoisseur pen. This sleek black beauty is designed for wax, displays battery level and passed seven rigorous tests for durability.
NARS Velvet Matte Lip Pencil I don't usually do makeup, but when I do I'll throw on a lip color. NARS pencils make it easy to line and fill lips after hitting the joint.
Burt's Bees chapstick Burt's Bees chapstick is the best. It's packed with beeswax, vitamin E and a hint of peppermint oil for a refreshing tingle.
Nail Clippers I used to bite my nails, like down to the nubs, before I carried clippers. Today, with my frequent hand modeling of product, I'm almost OCD about carrying them.
Business Cards I'm always spreading the word, whether its Grassworks Digital's automated menu, the national debt via A Generation Empowered or pitching photos on my personal site.
As for my YSL bag? It's lambskin, has a removable chain and is black on black to blend in with everything I wear. Sure I splurged, but it's the kind of bag I hope to pass on to my kids or grandkids. On the Net-a-Porter gift card I said, "happy birthday you hard-working babe. You deserve this!"
---
---
You might also like
---